CDC RESOURCESSTATE OF MICHIGANOAKLAND COUNTY
WEST BLOOMFIELD TWPKEEGO HARBORSYLVAN LAKEORCHARD LAKE VILLAGE
BIRMINGHAMBLOOMFIELD HILLSROCHESTERROCHESTER HILLSTROYPONTIACAUBURN HILLS
---
Welcome to the Civic Center TV News Page.  We will continue to post information we hope you will find helpful.
---
MLIVE — Beginning 3 p.m. Friday, May 26, the state is suspending road work and lifting traffic lane restrictions on 81 of its 146 statewide road and bridge projects (55%) to ease traffic delays and improve driver and worker safety.
Construction suspensions will expire 6 a.m. Tuesday, May 30, when work will resume as planned, according to the state's Department of Transportation.
An estimated more than 1.2 million Michiganders will travel 50 miles or more during the upcoming holiday weekend, according to AAA Michigan. That's a 9% increase from last year and a near return to pre-pandemic levels.
Drivers may still notice equipment and certain traffic configurations remaining in place, including temporary shifts or shoulder closures. While many projects will be paused, drivers may still encounter work zones and should exercise caution.
To read the entire article, click here.
---
DETROIT NEWS — Police are investigating an incident Thursday at Cranbrook Schools that led to an early dismissal at the Bloomfield Hills campus.
A staff member spotted "an image that was concerning" and alerted the campus safety team, the Bloomfield Hills Department of Public Safety said in a statement.
As a precaution, the department and Cranbrook officials issued a shelter in place order at 8:30 a.m. Students and staff then were dismissed.
"At no time were there any active threats discovered on campus," police said. "The investigation is ongoing and no further details are available at this time."
To learn more about this developing story from the Detroit News, click here.
---
LANSING STATE JOURNAL — The Lansing man police said carried out the mass shooting on Michigan State University's campus in February watched online videos about campus shootings and other violent topics in the days before the incident, according to police reports.
On Feb. 11, Anthony McRae searched for or watched YouTube videos about school shootings and documentaries about killers and arson, according to Michigan State University Police and Public Safety Department reports that detail results of search warrants sent to Google.
Those warrants also showed he viewed videos of MSU campus tours.
University police obtained warrants for internet searches from McRae, 43, from December to February, which included searches for Dunham's Sports, where police reports indicate he legally purchased ammunition. The name of the store had not been previously reported. A message was left seeking comment.
The reports indicate MSU police obtained additional search warrants, but the returns were not included in the documents released following a public records request.
MSU spokeswoman Emily Guerrant declined to comment for the story.
To learn more about this report, read the full article by clicking here.
---
DETROIT FREE PRESS — Michigan could become the third state to ban the declawing of cats under a bill introduced Thursday in the state Legislature.
House Bill 4674, sponsored by Rep. Jimmie Wilson, Jr., D-Ypsilanti, would ban the common practice except for "therapeutic" purposes, which would not include protecting against damaged household furniture or other scratches.
New York and Maryland have already banned cat declawing as cruel and unnecessary, said Leaha Skylar Dotson, Wilson's legislative and policy director.
Dr. Dana Tatman-Lilly, an associate veterinarian in Livingston County and president-elect of the Michigan Veterinary Medical Association, confirmed the procedure typically involves some bone removal. But she said the association opposes the bill as infringing on decisions that should be made between a vet, who undergoes years of rigorous training, and a pet owner.
To learn more about discussions on this potential bill, click here.
---
BRIDGE MICHIGAN — Teach for America, the national program best known for recruiting fresh college grads to work in vulnerable schools for at least two years, is partnering with select school districts in Michigan to keep more teachers from leaving the profession.
The Detroit chapter of the organization said it aims to recruit, retain and develop about 700 teachers in Michigan over the next five years. The announcement comes as Michigan, like other states, struggles to retain qualified teachers, particularly in high-poverty schools, and as far fewer college students choose education as a profession.
More districts will likely join in the future, TFA Detroit Executive Director Armen Hratchian told Bridge Michigan.
The program will focus on three groups:
Early career educators with one to three years of teaching under their belt,
Educators with four or more years of experience who want to pursue National Board Certification, and
Educators with five or more years of experience who are considering becoming leaders in their school or district.
To learn more, read the full article from Bridge Michigan by clicking here.
---
MLIVE — The MHSAA's announcement that its state football finals are being moved back one day because Michigan State and Penn State will be playing Friday night at Ford Field could lead to some tough decisions for parochial high schools.
The MHSAA finals will be held Saturday and Sunday rather than Friday and Saturday, which could create a problem for schools that would prefer not to play on the Sunday Sabbath.
Mark Uyl, the MHSAA's executive director, said that "flex scheduling" will be implemented to try and satisfy all of the teams that reach the finals.
He said the schedule for Saturday and Sunday games likely won't be drawn up until November, a couple of weeks before the finals when the MHSAA will have a better idea of which schools might be participating.
To learn more on this developing story from MLive, click here.
---
MICHIGAN DNR VIA THE OAKLAND PRESS — To help boost awareness of changing conditions at Great Lakes beaches and save lives, double red warning flags are now in place at state-designated swim beaches along the Great Lakes in Michigan state parks.
It's a change to the Great Lakes flag warning system that the Michigan Department of Natural Resources began integrating last year at several state parks, and for good reason.
What do the flags mean?
If you see double red flags, you are not allowed to enter the water from the beach. Unless otherwise directed, visitors can still enjoy spending time on the beach when double red flags are up. Such closures/limits can also be identified by park signage and/or by verbal communication from DNR parks or law enforcement staff.
Specifically, DNR Land Use Order 5.1.6 makes it illegal to enter the water from a state-designated swim beach when there is risk to human health and safety. Risks can include severe weather events identified by the National Weather Service, hazardous waves and/or dangerous water conditions, active rescue or recovery efforts, and environmental hazards.
To learn more about this new rule, read the full article posted by the Oakland Press by clicking here.
---
ROCHESTER POST — George Rouhib Jr. was recently named the new chief of police by Rochester City Manager Nik Banda, with the unanimous support of the Rochester City Council.
"This is a dream job. This is a dream opportunity for me," said Rouhib. "There are not many jobs like this that open up, especially in a community like this."
Rouhib replaces former Chief Steve Schettenhelm, who is set to retire from his post near the end of June after over 15 years of service to Rochester.
"There are some big shoes to fill," Rouhib said of Schettenhelm. "He's gonna leave his legacy here, and I will build on that legacy."
To learn more and read the entire article from C&G Newspapers' Rochester Post, click here.
---
ASSOCIATED PRESS VIA THE OAKLAND PRESS — Michigan will ditch a system that gave A-through-F grades to public schools each year after state education officials called the system overly simplistic and a duplicate of federal requirements.
The Michigan School Grades System, which was narrowly passed in 2018 by the Republican-led Legislature, assigned each public school in Michigan letter grades and rankings based on the school's annual performance in five categories.
It was repealed under legislation signed Monday by Gov. Gretchen Whitmer, who said in a statement it added "burdensome requirements" to schools.
The grading system had received bipartisan pushback since it was pushed through in 2018 during a 17-hour lame duck session by the GOP-led Legislature and Republican former Gov. Rick Snyder. The Michigan Department of Education, who creates the rankings each year, said it was "not necessary," due to other assessments already in place.
The bill repealing the A-F grades for schools received bipartisan support in the state Legislature earlier this month. Democratic state Sen. Dayna Polehanki, who is a former teacher, said the "educational community has been asking for this," and that the index reports and parent dashboard are a "far superior," way of assessing schools.
To read the entire article, click here.
---
DETROIT FREE PRESS — Michigan Supreme Court Justice Richard Bernstein announced he is returning this week to in-person duties after a four-week absence from the court to receive mental health care. In the announcement, Bernstein said he sought care for situational depression.
Bernstein, 48, missed a special court session in Cheboygan in late April and wasn't present on the bench during oral arguments May 10, but Chief Justice Elizabeth Clement said he was following along over the court's livestream.
"I want to express my deepest thanks and appreciation for the support of my family, friends, and colleagues as I sought treatment for situational depression," Bernstein said in a statement. "It is my sincere hope that by talking about these issues in the open, free from any needless stigma, we can move closer to a day when anyone struggling can avail themselves of the same quality care I was blessed to receive."
Click here to read this entire article from the Detroit Free Press.
---
DETROIT NEWS — Michigan Attorney General Dana Nessel announced Tuesday she has joined a national lawsuit against an Arizona-based company and its leaders, accusing them of sending billions of illegal robocalls.
The complaint was filed in the U.S. District Court of Arizona following work by the nationwide Anti-Robocall Multistate Litigation Task Force that includes 51 bipartisan attorneys general, Nessel's office said.
Avid Telecom, described as a Voice over Internet Protocol service provider that sells data, phone numbers, dialing software and expertise to help its customers make mass robocalls, allegedly sent or transmitted more than 7.5 billion calls to telephone numbers on the National Do Not Call Registry between December 2018 and January 2023, according to the complaint.
Approximately 195,332,233 of those calls were to numbers in Michigan, Nessel's office said in a statement.
To learn more about this lawsuit and read the full article, click here.
---
THE OAKLAND PRESS — The popular Polish Country Fair at St. Mary's Preparatory High School in Orchard Lake will not be held again this year, and it's likely gone for good.
School officials cited safety concerns when they nixed the fair last year, just a few months after an Oxford High School student killed four classmates in a mass shooting.
The pandemic axed the fair In 2020 and 2021.
About 10 years ago, the fair attracted unruly crowds and several fights broke out.
To learn more and to read the entire article, click here.
---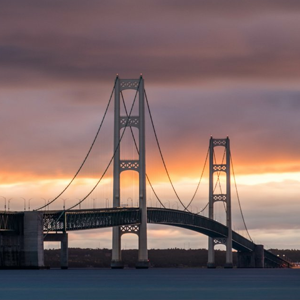 MLIVE — Officials say the Mackinac Bridge is in need of repairs after a crane hit the iconic structure earlier this month. According to 9&10 News, the 65-year-old Mighty Mac was hit when a barge carrying a crane as cargo smashed into it.
"There was evidence that the bridge had been struck, paint had been knocked off. Some of the structural steel had been scraped, but not to a degree that would be of a structural concern, " said James Lake, a spokesperson from the Mackinac Bridge Authority.
While repairs are going to be needed, officials say the structure is safe for motorists and the damage done did not impact the structural integrity of the bridge. It appears the main span of the bridge is where the impact was, but again, the MBA does not expect that damage to cause problems ahead of the busy summer season.
To learn more and read the entire article from MLive, click here.
---
MLIVE — Michigan is investing $160 million in a resurface and repair project on I-75 that's expected to require four years of construction.
The Oakland County construction project will include milling and resurfacing three lanes of I-75 in both directions for about 15 miles from Ortonville Road (M15) north to the Oakland/Genesee county line, according to the Michigan Department of Transportation.
Pavement repairs along the 15-mile stretch of I-75 may cause lane closures from late May through the fall. Workers will also build temporary crossovers along the bridge work during that time, though the full construction schedule hadn't yet been announced as of Friday, May 19.
For more information on this construction project and to read the entire article, click here.
---
THE OAKLAND PRESS — Gov. Gretchen Whitmer came to Royal Oak Monday to sign red flag gun legislation into law that will allow judges to issue extreme protection orders to keep firearms away from those deemed at risk of shooting themselves or others.
Whitmer and many others stood outside Royal Oak's 44th District Court for the signing, where the governor and about a dozen others people spoke to a crowd of about 200.
Whitmer drew hollers of support when she said suicidal people and mass killers often times show signs of psychological distress before they act, and the law is a way to step in and save lives.
"The shooters from Oxford High School and MSU showed (signs) beforehand," Whitmer said. "We need to take these common sense steps … to keep kids and communities safe we need to take these common sense steps."
To read the entire article and learn more about this event in Oakland County, click here.
---
DETROIT FREE PRESS — Former President Donald Trump will be the keynote speaker at the Oakland County Republican Party's Lincoln Day Dinner on Sunday, June 25, the party confirmed Monday.
A news release from the party said Trump will be presented with an award naming him its "Man of the Decade." Trump won Michigan on his way to becoming president in 2016 but lost to President Joe Biden in 2020.
Trump last visited Michigan last fall, speaking at a rally in Warren.
To read the entire article and learn more, click here.
---
THE OAKLAND PRESS — Royal Oak's Downtown Development Authority is set to bring special events to three downtown locations simultaneously starting next month featuring yard games, live acoustic music and possibly other performers.
DDA members unanimously approved the new event series, called Social District Saturdays, at their meeting Wednesday.
Tentative dates for the events are June 10, July 15, Aug. 12 and Sept. 16.
Downtown Manager Daniel Hill said events on those dates would be held in three locations within the city's social district, which allows people to buy alcohol in special cups from participating bars and restaurants and walk around the social district covering most of the downtown.
For more information on the events and to read the full article, click here.
---
MLIVE — As camping season ramps up for the year, social media groups devoted to Michigan state parks have seen a flurry of discussions around campsite check-in times and whether early check-ins are allowed.
But according to the Michigan Department of Natural Resources, campers shouldn't expect to settle into their Michigan state park campsites before the 3 p.m. check-in stated on the DNR's rules and regulations page.
The full list of state park rules and regulations can be found on the DNR's website here.
To read the entire article and learn more, click here.
---
THE OAKLAND PRESS — Figures released earlier this year show a continuing decline in public school enrollment in Oakland County and throughout the state. Experts suggest several things have contributed to the steady decrease.
In Oakland County, 27 of 28 school districts experienced a decline in enrollment from the 2019-20 school year to 2022-23. Clarkston was the only district to gain students.
In Oakland County, Madison (19.6%), Oak Park (16.8%), Pontiac (14.6%), Waterford (13.5%)  and Southfield (11.7%) lost the highest percentage of students over the past three years.
Statewide, enrollment dropped over 60,000 students and Macomb and Wayne counties lost 6,037 and 11,662 respectively.
To learn more about these trends and to read the entire article, click here.
---
DETROIT NEWS — Southeast Michigan organizations recently learned they would receive a total of $800,000 to support caregivers, sports programming and other community development projects.
The Community Foundation for Southeast Michigan, a philanthropic grantmaking foundation, distributed $800,000 in grants from the Ralph C. Wilson, Jr. Foundation to 36 nonprofit organizations, many providing free services to clients.
The Art Experience will use its $14,000 from the foundation for a 12-week pilot program focusing on art therapy for cancer caregivers in Oakland County. Cancer caregivers are usually spouses but also can be adult children or siblings.
Team Guts, a fitness organization, offers outdoor martial arts and dance classes at the Hunter Community Center in Clawson for people with special needs as well as one-on-one training for those who are not comfortable in a group setting.
The program received $22,000 for a four-week summer day camp for youth with special needs in Oakland and Macomb counties.
To learn more and read the full article, click here.
---
MLIVE — NOAA updates the seasonal forecasts once each month. The latest update for summer was issued yesterday. It does have a slight change for Michigan's summer forecast.
NOAA's long-range forecasters have lowered the chances of a warmer-than-normal summer for Michigan. In the April forecast all of Michigan had a 40% chance of warmer than normal temperatures in June, July and August. In the latest forecast from yesterday, the chances of a warmer-than-normal summer have been lowered to 33%.
So what changed in a month to take the confidence of a warm summer down a notch? The rapidly developing El Niño is the main reason for a slightly cooler forecast. El Niño is probably going to develop in the next two months. At the rate the warmer water of an El Niño is showing up, the El Niño could become strong this summer.
Learn more about the most up-to-date summer forecast for Michigan and read the entire article by clicking here.
---